Garage Door Repair in Sunrise Is an Essential Service!
If you have a home, there is a good chance that you have a garage door, and you know just how important it is to make sure that door is protected. Of course having a good, encrypted opening system is important, but part of having a secure door is making sure that it is installed properly, and that it is in good repair.
Have you ever tried to install one? Do you know just how difficult it can be? Then, of course, you have the potential for accidents that will threaten the integrity of this all important door, and that is not something that you want to deal with on your own. That being the case, you need to find a garage door repair service in Sunrise that you can count on – a company that has your best interest at heart, and one that understands the nuances of garage doors, which can be many, believe it or not. Let's discuss some of the most common garage door issues and what can be done to fix them.
Problem 1 for the Sunrise garage door service: Garage Door Sticks
There are a few reasons that your garage door could stick, one of the most obvious being a faulty remote, but you can't always blame it on electronics. Sometimes, the problem will be more of a mechanical issue or even an environmental issue. For example, has your house shifted due to the cold weather? This would cause the door to become stuck as the tracks have probably moved with it. This is a problem that would necessitate a garage door repair contractor, and a good one at that.
While shifting could cause the problem, you also have to take into account that it might have been an issue of improper installation from the start. For example, it might have been hung improperly, making it uneven. Are all the cables and springs at an even length? If you feel uncomfortable checking any of this, or you simply aren't sure what you're looking at, Sunrise garage door services can help you to get on the right track; no pun intended.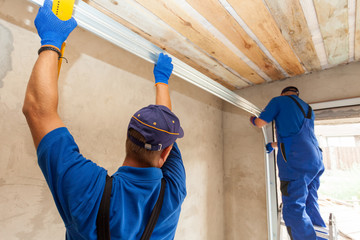 Problem 2 for the Garage Door Service in Sunrise: Loud Noises when Operating the Door
This is something that you can fix on your own, fortunately, and all you need to do is clean the track. This will start of course with lubricating the track and making sure that dirt and dust are properly removed. Make sure that the track is entirely clear and make sure that you only use oil that is specifically designed for garage doors. In addition to that, use a lubricant like WD-40. Once you do this, check to see if the problem is solved by opening and closing the garage door a few times.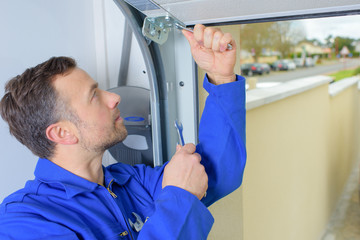 Problem 3 for the Sunrise Garage Door Service: Uneven Door Movement
This could be another issue that can involve debris in the track, so once again, cleaning, and seeing if the issue resolves itself can help. Additionally, make sure you check the springs and ensure that they are both the same length. Doors with automatic openers may have faulty motors, and in that case, you will need to make sure you replace it as soon as possible.
These are three very common problems that you are going to run into when you are working with a garage door, and in the end, you will more than likely find that you need to call in the professionals. Not to worry; we have you covered. We have some advantages over the competition including:
Family Owned Company
Reliable Prices
Licensed and Insured
5-Star Rating from BBB
Professional
It is important to note that we are more than capable of proving our licenses where other companies tend to fail. We don't make claims that we cannot back up, and we even have our technician on site under our employ rather than a consultant like other companies use. Remember, each month we'll offer new promotions and benefits for our customers, so if you have a garage door, we're the ones you want to call on. Don't let any of your problems get out of hand – let us take pre-emptive action. As a premiere garage door repair company in Sunrise, we have your door well in hand.